Blue's Clues & You - From October 4th the new episodes on Cartoonito
The new episodes in the first free TV of BLUE'S CLUES & YOU, the series that has conquered the little fans of the channel since the first episode, land on Cartoonito (channel 46 of the DTT). The appointment is starting from 4 October, every day, at 8.40.
In these unprecedented episodes, many new interactive games, always in the company of the friendly protagonists, thanks to which children can spend fun moments, learning many new things.
The show, made in live action and computer graphics, sees as protagonists some nice and funny characters who will involve the little spectators by animating their afternoon in a really fun way.
A boy, Josh, and an animated dog named Blue, invite viewers to solve many puzzles together by following the clues hidden in the cartoon house where they live.
The little ones are therefore invited to actively participate. A way to learn many new things, under the sign of fun and mystery.
Blue, its fantastic world and the many games and puzzles to solve, will become an unmissable appointment to spend the long winter afternoons in a light, ingenious and above all ... interactive way!
Blue's Clues & You
BLUE'S CLUES & YOU! is a live-action / computer animated interactive educational children's television series. It is a reboot of the original 1996 Blue's Clues TV series with a new presenter, Josh Dela Cruz, and is co-developed by original series creators Angela C. Santomero and Traci Paige Johnson. The series is produced by Nickelodeon Animation Studio and 9 Story Media Group's Brown Bag Films. It premiered on November 11, 2019.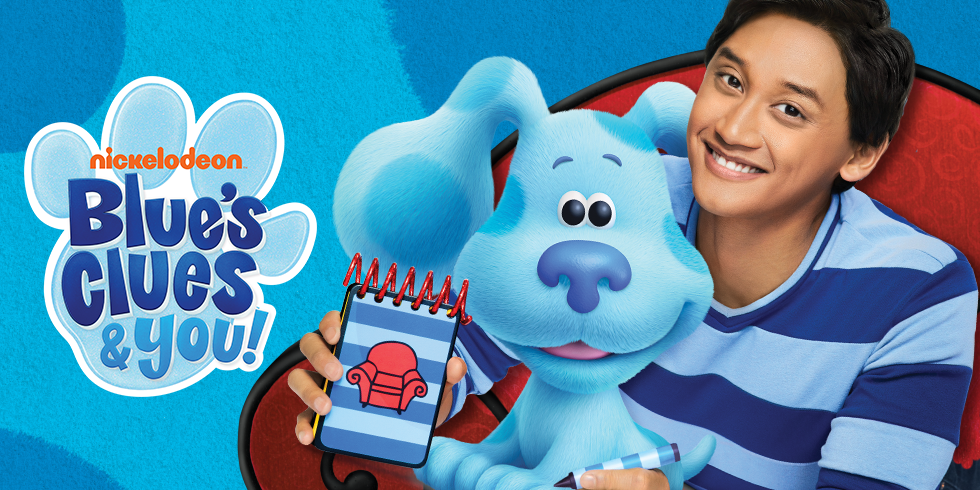 Similar to the original 1996 series, this series has a live-action host in an animated world. The series features new production designs and the characters (apart from the guest) are digitally animated, although the visual style remains similar to the style used in the original series.
Like the original show, Blue's Clues & You! it depended on built-in silences designed to encourage public participation and what the New York Times called "direct address inviting preschoolers to play games together and solve mini-mysteries." The show's producers acknowledged that his return was due to nostalgia and that although young children had more access to technology and were more visual than preschoolers before, they still had the same developmental and emotional needs to "slow down".