Cyber ​​City Oedo 808 - The 1990 anime animated film
Cyber ​​City Oedo 808 (in the Japanese original: サ イ バ ー シ テ ィ OEDO 808) is an animated trilogy aimed at home video on the cyberpunk genre of 1990-1991, directed by Yoshiaki Kawajiri. Set in the year 2808 in the city of Oedo (Tokyo), it tells the story of three criminals who are enlisted in the fight against crime in exchange for reduced sentences. They are Sengoku, a nonconformist antisocial, Gogou, a hacker wearing the crest, and Benten, an androgynous bishōnen.
The UK release of the OVA includes a completely new soundtrack by Rory McFarlane.
History
To combat cybercrime more effectively, the cyber police unit of the future Japanese city of Oedo restored the feudal practice of hōmen (放 免), employing hardened criminals, with a history of hi-tech crime and other crimes such as murder as agents themselves.
Three of these criminals are Sengoku, Gogul and Benten, who have been serving their sentences for more than 300 years, in an orbital penitentiary. For the service rendered, each criminal will receive a reduction in detention time. Desperate to get away from the boredom and monotony of prison life, they grudgingly accept the deal. They respond to police chief Hasegawa, who keeps them under control thanks to an explosive collar that every criminal wears around his neck. Hasegawa can detonate this collar from a distance and detonate them if they fail to complete their missions within an allotted amount of time. Each is also armed with a jitte (the traditional weapon and symbol of authority of the ancient Edo police), although they also have access to more powerful weapons.
While there are no details on the type of company the series is based in, it is presented as very high-tech but with a rather dystopian vibe. In the first episode, for example, a man under pressure confesses to a murder (which he has committed) and that he is responsible for the current crisis. This is enough for Hasegawa to order Sengoku to kill the man there and then without even a trial. When Sengoku doesn't, his sentence is increased.

Characters
Shunsuke Sengoku
Gabimaru "Gogul" Rikiya
Merrill "Benten" Yanagawa
Juzo Hasegawa
Kyōko "Okyo" Jōnouchi
Varsus
Dave Kurokawa
Mishiba
Sara
Kazuo Shiroyama
Remi Masuda
Shuzo Saionji
Kelley Takakura
Videogioco
Cyber ​​City Oedo 808: Attribute of the Beast (CYBER CITY OEDO 808 獣 の 属性, Saibāshiti Ōedo Hachimaruhachi: Kemono no Zokusei) is an adventure video game released on March 15, 1991 for PC-Engine CD-ROM² by Nippon Computer System exclusively in Japan. The plot is completely original and is not an adaptation of any episode.
Music
The original UK VHS release (also broadcast on Channel 4 television around 1995) features a more rock-centric 23-track soundtrack composed by Rory McFarlane not featured in the US or Japanese versions. McFarlane's soundtrack combined metal, electronic and ambient styles. It has been out of production for years and, as such, is very rare to find on CD, but is known to be available on the internet. The UK soundtrack has a noticeably different tone to the original Japanese soundtrack (more pop). Due to Manga Entertainment UK's loss of the rights to the Cyber ​​City series, this edition of the soundtrack was not available on Western DVD releases and remained only available on older VHS releases from the mid-XNUMXs until Anime Limited did not release the film on Blu-ray in the UK with the UK Dub CD and Soundtrack included in the release.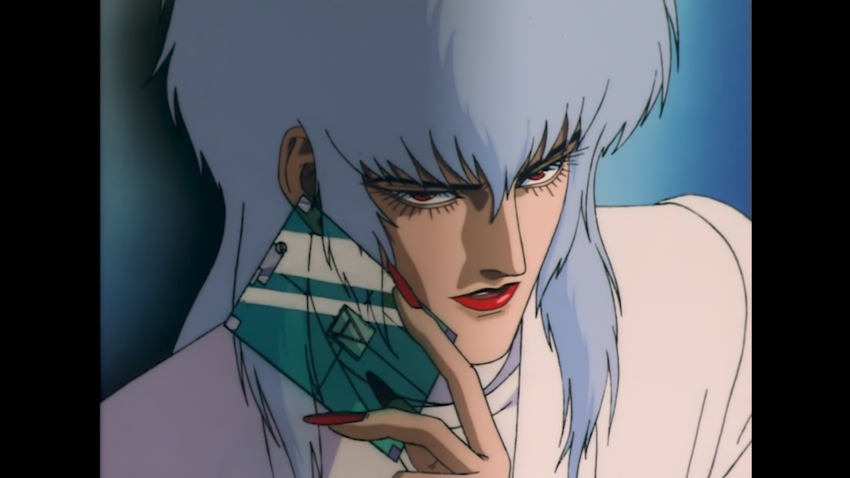 Production
Originally distributed by Japan Home Video, it was then adapted and released in English by British Manga Video. In Italy it was first published on videotape by Granata Press, then by Polygram; finally, on DVD from Dynit. Since the rights belonged to Polygram video, even the Dynit edition has kept, in addition to the dubbing, the same forcedly abusive adaptation typical of the first licensee of the work. Also, as Dynit herself already states in the DVD, due to the lack of an audio track separate from the speech, it was not possible to insert the Japanese soundtrack. Consequently, the music of the English edition remained.
Technical data
Regia Yoshiaki Kawajiri
Film script Akinori Endo
character design Hiroshi Hamasaki, Michio Mihara
Mechanical design Takashi Watanabe
Music Kazz Toyama
Studio Madhouse
1 edition 21 June 1990 - 4 October 1991
Episodes 3 (complete)
Episode duration 40 min
Italian publisher Dynit