Elemental (2023) – The Disney movie
Disney and Pixar have always had a gift for transforming the most basic elements of nature and life into profound and captivating narratives. With "Elemental", which has the subtitle "Forces of Nature" in some countries, the house of Mickey Mouse and the world's leading animation studio try to answer a question as simple as it is profound: can opposite elements ever meet and fall in love like fire and water?
Fire Meets Water in an Animated World
Directed by Peter Sohn and produced by Denise Ream, "Elemental" is a CGI animated film that takes viewers into a world inhabited by anthropomorphic elements of nature. We follow the love story between Ember Lumen, a fire element voiced by Leah Lewis, and Wade Ripple, a water element played by Mamoudou Athie. In a chance and fortuitous meeting in a grocery store, owned by Ember's father, the two discover a bond that tests the very laws of nature.
A Journey Through Time and Cultural Diversity
"Elemental" draws inspiration from the youth of director Peter Sohn, the son of immigrants and growing up in 70s New York. The plot pays homage to and highlights the cultural and ethnic diversity of the Big Apple, blending it with the influences of romantic films such as "Guess Who's Coming to Dinner", "Moonstruck" and "Amélie".
A Stellar Creative Process
The production of "Elemental" was a seven-year journey, completed both in studio and remotely, with the team studying different cities around the world through virtual tours on YouTube for inspiration. The soundtrack was masterfully composed by Thomas Newman, with an original song by Lauv. With a budget of $200 million, it is one of the most expensive animated films ever made.
An ovation welcome
Despite a lower-than-expected opening, "Elemental" received a five-minute standing ovation at the 76th Cannes Film Festival and proved to be an unexpected success, grossing $480,3 million worldwide.
History
In an Element City divided by tensions between the elements, the story of "Elemental – The Spark of Love" begins with the Lumen family, elements of fire, who open a grocery store called "Fireplace". A blue flame represents their traditions and hopes in this new world. But the protagonist, Ember Lumen, must first learn to control her fiery temper, a visible legacy of her family, before she can take the reins of the shop.
A Destiny Meeting between Opposing Elements
Everything changes when, during her father Bernie's temporary absence, Ember causes flooding in the shop. This incident attracts the attention of Wade Ripple, a water element and city inspector, who is forced to report the problem to Gale Cumulus, an air element with the power to shut down the "Fireplace".
A Quest to Save the "Fireplace"
Wade, moved by the situation, proposes a deal: he and Ember will have a limited amount of time to discover and fix a leak in the city's plumbing system. If they succeed, the complaint will be withdrawn. During this mission, not only do they manage to fix the leak, but Ember and Wade also discover a lot about each other.
The Meeting of Two Worlds
Ember visits Wade's family and amazes them with her glass-blowing skills. The relationship between the two seems to blossom until Gale confirms that the Fireplace is safe, and Ember realizes that he doesn't want to inherit the family store.
A Love Tests Family Traditions
Bernie, disappointed by his daughter's decision, decides not to retire and not to sell the shop. As Ember is on the verge of accepting family responsibilities, Wade shows up and declares his love for her, accidentally revealing that Ember caused the flooding. Despite the tensions and differences, it's clear that the love between Ember and Wade is genuine.
Characters
Ember Lumen: A Fire That Burns Brightly
Played by Leah Lewis, Ember is a fiery element with a strong character and a sharp tongue. She works in the family store, the "Fireplace", but has trouble controlling her explosive temper. Although vulnerable to water, she protects herself with an umbrella, a symbol of her complexity. The directors wanted a character who was likable and human, not fearsome. Leah Lewis was the ideal choice due to her previous performance in "The Half of It" (2020).
Wade Ripple: A Sea of ​​Emotions
Mamoudou Athie plays Wade, an emotional and sensitive water element who works as a building inspector. With a more fluid and swaying body than Ember, Wade is a character who "cries easily", confirming his emotionality.
Bernie and Cinder Lumen: Keepers of the Flame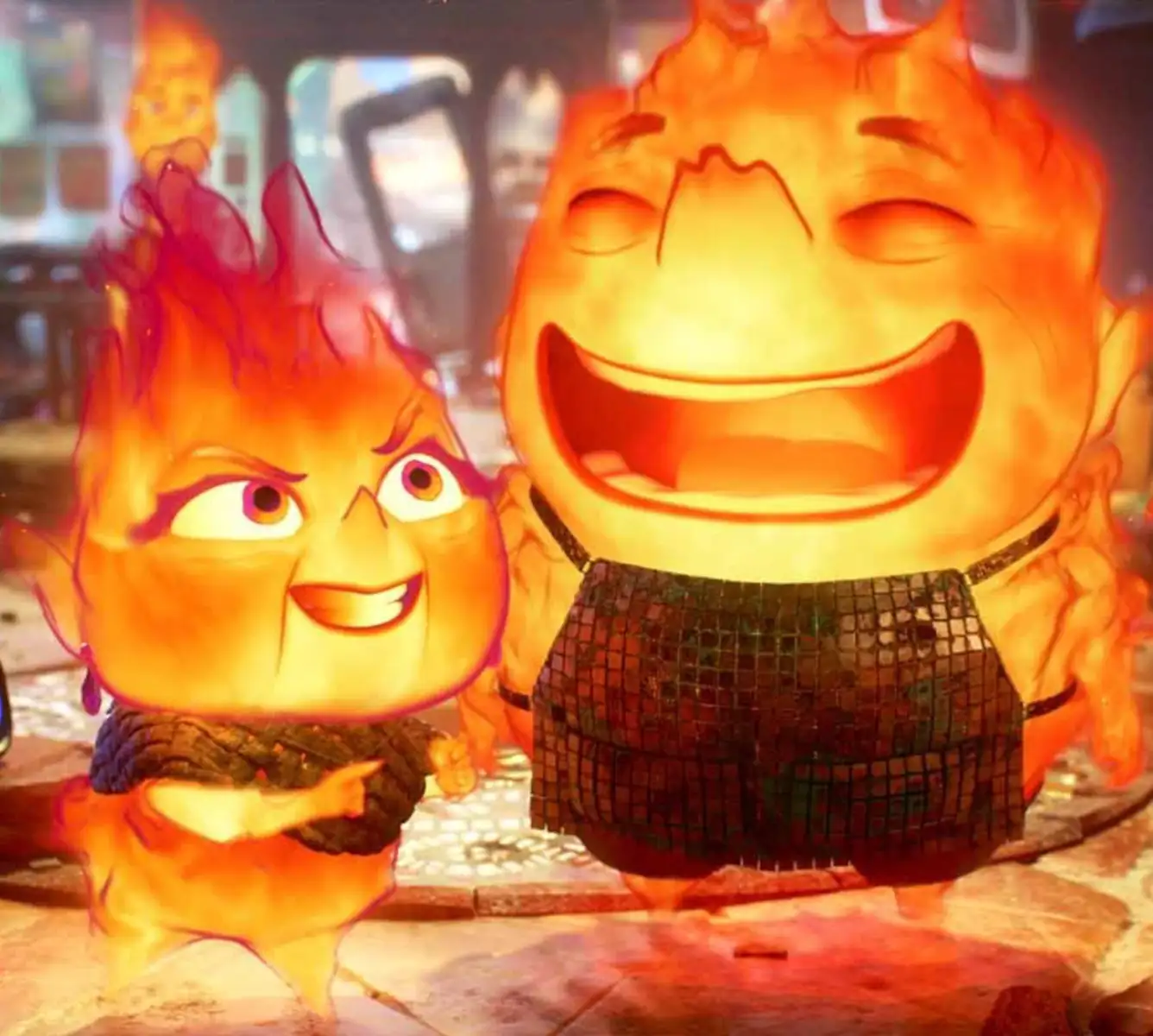 Bernie (Ronnie del Carmen) is Ember's father and the owner of the Fireplace. He has retirement plans, but is suspicious of the water elements. Cinder (Shila Ommi), Ember's mother, shares the same wariness.
Gale Cumulus: The Air That Moves the Leaves
Wendi McLendon-Covey plays Gale, an air element with a big personality, and is also Wade's employer. Although her surname is not mentioned in the credits, Gale is a character who leaves his mark.
Brook Ripple: The Water That Welcomes
Catherine O'Hara as Brook, Wade's widowed mother, a welcoming woman who lives in a luxurious apartment. She is the one who offers Ember an internship opportunity in glass making.
Secondary Characters, but No Less Important
Mason Wertheimer is Clod, a young earth element in love with Ember.
Joe Pera is Fern Grouchwood, a gruff earth elemental bureaucrat.
Matt Yang King stars Alan Ripple, Wade's older brother, and also Lutz, an airball player.
And many other characters who add color and depth to the "Elemental" universe.
These characters not only bring "Elemental" to life, but also reflect the nuances and complexities of human relationships and the elements themselves. It is a story in which each character, main or secondary, contributes to forming a rich and engaging world. Don't miss the opportunity to meet them all!
Production
Seven years of work, deep family introspection and the incredible challenge of bringing classic elements to life: this is "Elemental", the latest animated masterpiece directed by Peter Sohn. But what is behind this film that has enchanted the public and impressed the critics? Today we explore the fiery and fluid world of "Elemental".
The Genesis of the Project
It all started when Peter Sohn, already known for directing "The Good Dinosaur" (2015), launched the revolutionary idea: what would happen if fire and water could fall in love? A seemingly simple question, but one rooted in Sohn's personal history as the son of Korean immigrants in New York in the 70s. Element City, the fictional metropolis where the plot takes place, is a tribute to that "big mixed salad of cultures" that Sohn experienced during his childhood.
Characters and Plot Development
Ember and Wade, the protagonists, represent opposite elements: fire and water. Despite these differences, their chemistry is undeniable. The emotional complexity of the characters has been scrupulously studied, exploring how each of them embodies their element both physically and emotionally. Sohn emphasizes that the film "is a thank you to parents and understanding their sacrifices," a theme that gains even more weight in light of the passing of his parents during the film's production.
A Multicultural Homage
Element City is a fascinating amalgam of cultures and elements, modeled on the various ethnic groups that make up a metropolis like New York. The city's design draws from the architecture of places like Venice and Amsterdam, with a complex network of canals and themed neighborhoods, like Fire Town, built from materials like ceramic, metal and brick.
Production Details and Technical Innovations
The production of "Elemental" saw the involvement of a large team of artists and technicians. With over 151.000 cores used, the film required a significant technological leap over previous Pixar projects. Character designs, such as water transparency for Wade's character, also posed a technological challenge.
"Elemental" is more than an animated film; it is an emotional journey that explores the dynamics of family, identity and belonging through the prism of natural elements. With its profound emotionality and its extraordinary technical achievement, "Elemental" marks a new chapter in the evolution of animated cinema.
And for those who are curious to find out what will happen between Ember and Wade, know that the writers had thought of an ending that could leave us hoping for a sequel. We will therefore remain with bated breath, waiting for further developments in this incandescent and fascinating universe.
Technical data
Original language: English
Country of Production: United States of America
Production year: 2023 mm
Duration: 103 minutes
Relationship: 1,85: 1
Gender: Animation, Comedy, Romance, Adventure, Fantasy
Credits:
Regia: Peter Sohn
Subject: Peter Sohn, John Hoberg, Kat Likkel, Brenda Hsueh
Film script: John Hoberg, Kat Likkel, Brenda Hsueh
Producer: Denise Ream
Production house: Pixar Animation Studios, Walt Disney Pictures
Distribution in Italian: The Walt Disney Company Italy
Technicians:
Photography: David Bianchi, Jean-Claude Kalache
Editor: Stephen Schaffer
Music: Thomas Newman
Cast:
Original voice actors:

Leah Lewis: Ember Lumen
Mamoudou Athie: Wade Ripple
Shila Ommi: Cinder Lumen
Ronnie del Carmen: Bernie Lumen

Italian voice actors:

Valentina Romani: Ember Lumen
Anita Patriarca: Ember Lumen (child)
Stefano De Martino: Wade Ripple
Serra Yılmaz: Cinder Lumen
Hal Yamanouchi: Bernie Lumen
Francesco Bagnaia: Pecco
Francesco Raffaeli: Clod